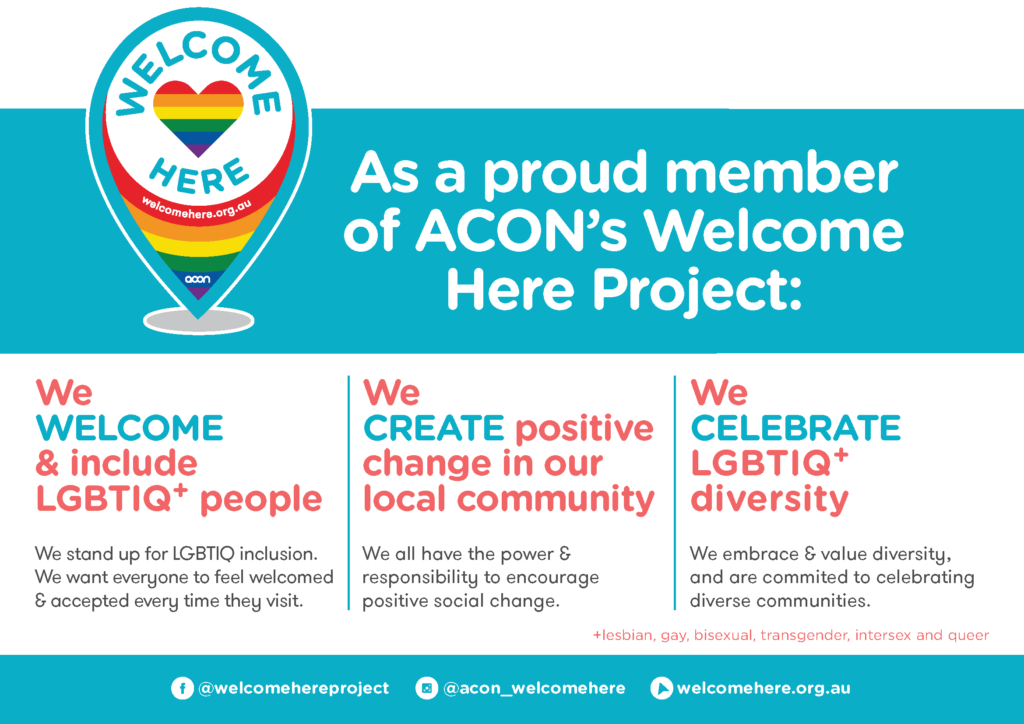 The Welcome Here Project supports businesses and services throughout Australia to create and promote environments that are visibly welcoming and inclusive of lesbian, gay, bisexual, transgender, intersex and queer (LGBTQ+) people.
Members register to receive the Welcome Here Rainbow Stickers and Charter to display in a prominent place to let all visitors know that LGBTQ+ diversity is welcomed and celebrated.
The aim of the Welcome Here Project is to build LGBTQ+ community resilience and wellbeing.
You can register or nominate a business or service to become a member and look out for Welcome Here Rainbow Stickers all over Australia!
What can I expect from a Welcome Here Project member?
Members are keen to welcome and include LGBTQ+ people. When you visit our members, say "hi" and mention the Welcome Here Project.
The Welcome Here Project does not involve formal accreditation. Members agree to uphold the following project commitments which are listed on the project Charter above:
We welcome and include LGBTQ+ people
We celebrate LGBTQ++ Diversity
We create positive change in their local community
We encourage community members to visit our members and if you have any feedback about a member please let us know via the Contact Us page.
How do we support our members to be welcoming and inclusive?
Members receive a variety of materials and support to create and promote welcoming and inclusive environments including:
The Welcome Here Rainbow Stickers and Charter and other promotional resources
Access to useful information and resources to support members on their 'inclusion journey'
Linkage to ACON's Pride Training and other inclusion programs
Resources to celebrate LGBTQ+ diversity – Diversity Days